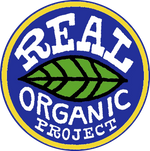 Bob Fenton, Co-Owner Shadowood Farm with Laurie Scott, Farm Manager
A Real Organic Certified Farm in Florida
Each month in 2023 I will be recommending organizations that contribute to a 'friendly' ecosystem by providing essentials that nurture the Earth we all share while supporting family farming and family-owned food providers across the Americas.

I am pleased to kick off 2023 by strongly recommending the farms and farmers of The Real Organic Project. Now numbering over 1000 strong, Real Organic farms are places to get great tasting and nourishing vegetables, fruit, meat, dairy, eggs, and even flowers. Everything they grow and raise adds to the well-being of our environment, our rural and urban farm communities, and the environment. These farms nurture their soil by not using toxic chemicals, they are respectful in the raising of animals, and all while providing farm habitats that add to the well-being of native flora, fauna, and the air we all breathe.

Growing from 65 farms in 2018 to 1,100 family operations in 2022, The Real Organic Project is a true grassroots movement aimed at transforming our food system.
Find a Real Organic farm you can support HERE! 
Learn more on January 17th by joining a Real Organic Symposium HERE. 
More next month! Thank you,
Bill Wilson, Founder Birds & Beans Coffee USA