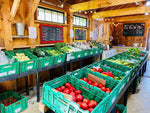 As the growing season ends in much of our country, local farm stands overflow with 'good food'.

We are lucky to live in an area where there are several farm stands, a weekly farmers market, and some very good local seafood. We make it a priority to support local farm families. These hardworking stewards of the land put in long hours and take a real interest in what they grow, raise, and sell.

We buy regularly from our local The King Farm, now in its 200th year. The current generation is working with other farms and food producers to offer a wide variety of tasty foods ranging from berries to dairy to meats and bread with lots in between. Shopping in their 'outdoor store' is fun, the food is healthy and the vista is wonderful.

As the season ends try your local farm stands and maybe sign up for a CSA next season. Attached is an image of a beautiful farmstead by Clara Coleman, of Four Season Farm.