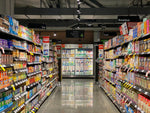 This year I have been bringing you stories of farmers, ranchers, and organizations that are dedicated to providing 'real & good' food and drink. These are products that are good for farmers and their workers, biodiversity, our families' tables, and the Earth we all share. My family includes omnivores, pescatarians and vegetarians. We buy our food and beverages from known and good sources from the local farm stand, online, and grocery stores. We do not have a food co-op near us but our local market does have most of the brands we support. I thought I would share with you seven brands I trust with a summary from them.
Wholesome Sweetener - USDA Organic, Fair Trade, GF, non-GMO: The Wholesome brand was founded in 2001 with a simple mission in mind: To provide high-quality baking ingredients and make life richer for everyone. We were the first to bring Fair Trade sweeteners to the U.S. and pioneer the Fair Trade standards for sugar, agave, and honey, and we've always led the way when it comes to creating quality products and respecting the people who make them possible
Dave's Killer Bread - USDA Organic, Second Chance Employer, Family Owned: Our commitment to uncompromising taste, texture, and quality is what makes Dave's Killer Bread different. It's what makes it the Best Bread in the Universe. It's what makes it America's #1 Organic Bread. But we do more than just bake killer bread. Dave's story of turning his life around inspires us every day to look beyond someone's past, to see their potential. at's why we are a proud Second Chance Employer. We hire the best person for the job, regardless of criminal history. We have witnessed first-hand that someone's past does not define their future, and that sometimes giving someone a chance is all they need to become a Good Seed. 
Lundberg Family Farms Rice - USDA Organic, Regenerative Organic, GF, non-GMO, Family Owned: At Lundberg Family Farms, we believe taking care of our land and the creatures who live on it is a year-round commitment. Which is why we let our land serve as a habitat for migratory birds. And it's why we sort & recycle just about everything. And it's definitely why we save baby ducks. Our fields are home to over 200 bird species, over the years we have rescued over 30k baby ducks and millions of migratory birds use our fields. 
Pete & Gerry's Eggs - USDA Organic, B Corp, Certified Humane Raised and Handled, Family Owned: From the very beginning, Pete & Gerry's has been on a mission to produce healthy, delicious eggs and partner with small family farms for meaningful impact. We stay true to our roots every step of the way by keeping hen welfare, connected communities, and planet-friendly farming practices at the heart of all we do, so you can always believe in what you buy.
Back Road Granola - USDA Organic, Kosher,  Certified Glyphosate Free, Non-GMO, Family Owned: We first started making our granola as a homemade breakfast item for guests at our B&B, located on our farm on a back road in Vermont. Our guests were asking if they could buy some. The rest is history. Back Road's annual giving focuses on the youth in our small community ~ Brattleboro, Vermont. We currently sponsor four creative and well-established programs.
Teddy's Organic Peanut Butter - USDA Organic, Kosher, non-GMO, Vegan, Family Owned: Our Teddie Organic All Natural Peanut Butter contains 100% USDA Certified Organic Dry Roasted Peanuts and Sea Salt. This peanut butter is full of pure, natural goodness and flavor. THE TEDDIE PURPOSE - Supporting our local community is of utmost importance to Teddie. We're proud to partner with charities and organizations across New England that help benefit our community as a whole.
King Arthur Organic All Purpose Flour - B Corp, Organic, 100% Employee owned: King Arthur Baking Company has been sharing the joy of baking since 1790. Headquartered in Norwich, Vermont, a certified B Corp, 1% for the Planet member, and 100% employee-owned, King Arthur Baking is the ultimate baking resource, providing the highest quality ingredients for the most delicious baked goods, while inspiring connections and community through baking. King Arthur's superior flours and mixes are available in supermarkets nationwide.