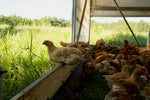 Essex County New York is in the heart of the Adirondacks and on the banks of Lake Champlain. Racey and Nathan Henderson are into their tenth year of raising, processing, and selling chicken that is Pasture Raised and Certified Organic on Reber Rock farm in Essex. Their chickens are on pasture and they have room to forage and get fresh air and fresh grass every day. They are only fed Certified Organic feed and NEVER given any antibiotics or hormones. This means the grain was grown without the use of pesticides, herbicides, fungicides, chemical fertilizers, desiccants, and many other chemicals. Reber Rock chickens are Certified Organic by NOFA NY, one of the leading certification agencies in the USA.
I came across Nathan last year because our Birds & Beans coffee is sold at North Country Co-op in Plattsburgh NY and so is local Reber Rock chicken. He told me they did not know if consumers would pay for chicken 'done right' but they were determined to find out! Almost all of the 9 BILLION chickens Americans buy and eat each year are raised by huge Concentrated Animal Feeding Organizations. CAFOs are sites that hold more than 125,000 chickens, usually without any outdoor access. Factory farms - you have seen the photos! Cheap, yes but CAFO chicken may not be your best choice.
The mission of Birds & Beans Coffee is to provide our customers with great-tasting coffee grown on family farms in Central and South America. Certified USDA Organic, Fair Trade, and Smithsonian - good for birds, family farmers and their workers, and the Earth we all share. Like chicken in the USA, the coffee sector is dominated by a few giants and almost none of the coffee they buy comes from farms like ours. So value the mission of Reber Rock.
With help from our lead 'Voice for the Birds', Scott Weidensaul, we decided to see if we could do a spring bird survey in Essex. May is the heart of spring migration and the beginning of the nesting season for 'coffee birds', species that depend on prime habitat in the tropics for winter and equally good habitat for rearing this year's young in North America. Derek Rogers, Stewardship Manager at the Adirondack Land Trust and an experienced local birder, volunteered to conduct the survey. On Monday, May 22nd in a few hours, Derek recorded over 190 birds from almost 50 different species, including over 15 species that are 'coffee birds' that might have spent the winter on coffee farms in the tropics we buy from. Included in the survey were Golden-winged Warbler and Grasshopper Sparrow, both species under threat. Full survey list HERE.
Birds connect us all - from family farms in Nicaragua, Guatemala, Honduras, and Peru that provide us with our Birds & Beans coffee to Reber Rock Farm. The connection goes beyond birds. Buying and eating and drinking 'real and good' food from family farms makes a difference today and in the future too.
Reber Rock Farm is a 120-acre farm on the southern edge of the Reber Valley in Essex, NY. Pasture Raised Organic Chicken, Pasture Raised Pork Fed Organic Grain, 100% Grass Fed Beef and Maple Syrup. Curbside pickup on the farm or direct delivery locally and throughout the Northeast. 
The Adirondack Land Trust is a regional place-based nonprofit that conserves forests, farmlands, waters, and wild places that advance the quality of life of communities and the ecological integrity of the Adirondacks. Through its farmland protection work, the land trust has since 1984 protected 7,300 acres of agricultural lands at 20 sites, ensuring they remain available for growing food and grains, raising cattle, haying, or other related purposes. 
 Farmer Nathan and Birder Derek